Praise from Susan Songer, editor of
The Portland Collections
, for Larry Unger's compositions:
If a band played only his tunes for an entire evening of dancing, they would have music for every possible caller request - sweet jigs, driving minor reels, straight-ahead old-time, funky modern reels, New England tunes, a hambo, schottische, or some beautiful waltz. Every tune would be well phrased for dancing, catchy, full of musical integrity. There would be no redundancy. And the evening would only represent the smallest sampling of Larry's larger work.
Two Rivers is one of Larry's most popular tunes. He wrote it in Wisconsin, on the shores of Lake Michigan. The waltz is featured in two of Ken Burns' documentary films.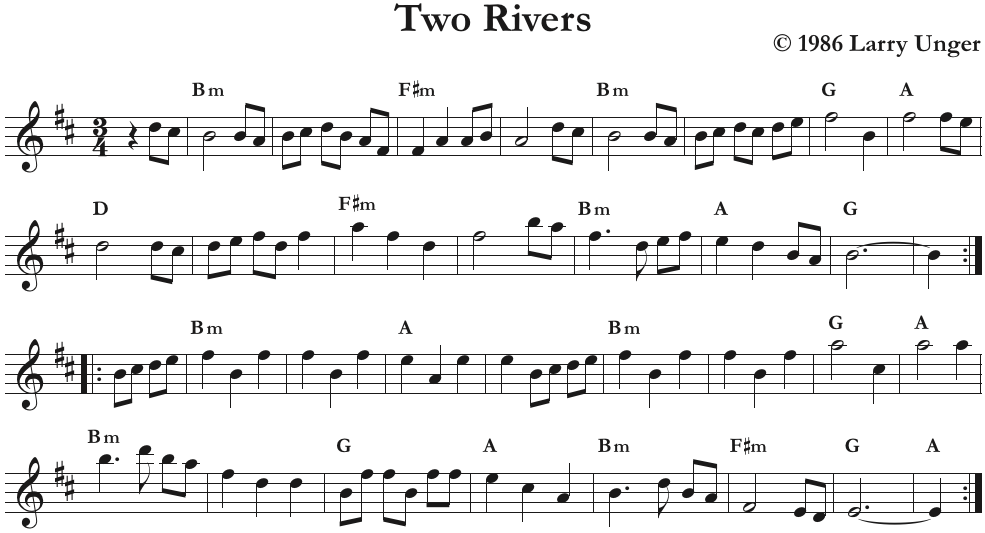 In chapter thirty-seven of the novel The Harrows of Spring by renowned author James Howard Kunstler, "Two Rivers Waltz" is played at a barn dance. Kunstler himself plays in a contra-dance band in Cambridge, New York, which is perhaps not surprising, given his vision of a future necessarily oriented towards smaller and more self-sufficient communities. In KunstlerCast 321, Kunstler began using Two Rivers as an intro to his podcasts.



All the Rage was written after fiddler Ruthie Dornfeld told Larry that jigs in the key of E were "all the rage."

All the Rage played by Larry on guitar